2.2 Baltimore, Maryland
Chizuk Amuno Congregation, 22 Lloyd Street
Henry Berge, architect/builder, 1876
D. Traub and Son, Baltimore, Maryland, publisher; no date (both views); also on back of interior view: "Litho in Taiwan"
These recent postcard views produced by the Jewish Museum of Maryland show the (then) newly restored (1987) B'nai Israel, former home of the Hebrew Chizuk Amuno (Strengthening of Faith) Congregation, dedicated in 1876.
Chizuk Amuno moved to northwest Baltimore in 1895 and sold the building to B'nai Israel (Sons of Israel). In a pioneering preservation agreement between the Jewish Historical Society of Maryland and the B'nai Israel Synagogue in the 1980s, the congregation donated the building to the Society, which obtained funding to restore it as the congregation's continuing home. The Society maintains the exterior and offers tours, and, as of 2021, the congregation continued to conduct Orthodox services there.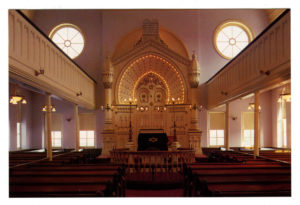 Chizuk Amuno was formed in 1871 by members of Baltimore Hebrew Congregation who had resigned in protest of changes made to the traditional services. The congregation began construction of a new synagogue in 1874 on land purchased just south of Baltimore Hebrew Congregation's Lloyd Street Synagogue.
Unlike Baltimore Hebrew Congregation, Chizuk Amuno, for both its first and second buildings, chose not to hire a well known architect—and perhaps avoided an architect altogether—choosing instead the little known Henry Berge, a stonecutter and builder. According to historian Bernard Fishman, "Chizuk Amuno cared about doctrine and tradition, not style or design. Henry Berge nevertheless gave them a superb building, Baltimore's major example of Moorish Revival architecture and a structure of great beauty and real charm, one of the best 19th-century synagogues to survive in this country . . . . The Chizuk Amuno building is . . . a brilliant effort, though by an unknown architect who apparently left nothing else with which to compare it."1
The new brick building, completed in 1876, was designed as a Gothic-style structure with Romanesque and Moorish elements. The congregation's choice is curious, since in the mid-1870s, Moorish design and decorative elements were especially popular with American Reform congregations inspired by major new synagogues in Europe (Vienna, Berlin, Budapest, etc.) and by the new Reform temples in Cincinnati (1866) and New York City (1868). From a strictly visual standpoint, the Orthodox Chizuk Amuno seemed to be allying itself with American Reform Judaism. Inside, the sanctuary boasts Baltimore's most elaborately carved wooden ark. Documentation is scanty, but the work is attributed to an otherwise unknown craftsman named Yeager, who was paid $77,00 for the work.
1 Bernard Fishman, "Henry Berge: The Forgotten Architect of the B'nai Israel Synagogue," Generations: The Magazine of the Jewish Museum of Maryland (Spring 1988): 8.